This piece originally appeared in the Project Redwood blog.
My husband and I have been lucky enought to visit more than 50 national parks and monuments in the last decade.  Here is a recap of some of our favorite hikes.
Spectacular Views of the Rio Grande
Big Bend National Park, Texas. (Daniels Ranch to Hot Springs and return, 3 miles)
We'd skipped a planned visit to Big Bend on a previous autumn trip because I'd had enough of the desert. This time, though, we visited in the cooler spring, and the desert was full of flowers. The first part of our hike took us past abundant blooming claret cup, prickly pear and pitaya cacti. I took dozens of photos of the strange and spindly ocotillo, with its long, barren stems that end in bursts of crimson flowers. We climbed up to views of the Rio Grande, which quietly meandered between sheer limestone walls. Horses roamed, unbridled and seemingly unattended, on the Mexican bank. Further along, at the river's edge, we soaked in a hot spring that bubbled up through a century-old bathhouse foundation.
An Imposing Peak, Profuse Wild Flowers
Mount Rainier National Park, Washington. (Sunrise Area Trails, various lengths)
We could see Mount Rainier all the way from Seattle. At the park, wildflowers were everywhere, even though it was autumn. We did not climb Mount Rainier, it's a trek through 9,000 feet over 8 miles, across glaciers. Hikers usually stop at high camps, and summit from there. We were content with rambles that didn't require ice picks and carabiners. On all the trails we did hike, the immense peak dominated almost every view. We stopped at the nearby Crystal Lake Ski Resort every night for dinner, even though the bartender told us "there's no tennis here" when we asked him to tune the television to the US Open.
Through Spires and Pinnacles
Pinnacles National Park, California. (Bear Gulch Trail to High Peaks Trail to Condor Gulch Trail, 5.8 miles)
It was late afternoon when we arrived, and the park campground was dry, dusty, and almost empty. The nearest restaurant was 35 miles away and the camp store had just closed so we boiled water for ramen noodles and listened to an audio of the book Unbroken. The hike the next morning, though, was a highlight. We walked through caves and wound up around spires and boulders, past stunning vistas. The depression-era Civilian Conservation Corps left its mark here with steps cut into the rocks and strategically placed iron handrails. After five miles, we rested by a quiet reservoir. For dinner, we ate Dinty Moore Beef Stew from cans. I reminisced fondly about an earlier camping trip, when Dick had driven 25 miles to get me a cinnamon roll.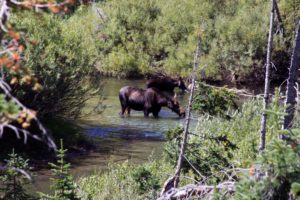 Saw-Toothed Peaks, Moose
Grand Teton National Park, Montana (Cascades Canyon Trail, 10 miles to the Forks of Cascades Canyon and back)
We took a boat across Jenny Lake to the trailhead. Fellow hikers laughed at our bear bells, but this is grizzly territory; I carried bear spray in my backpack. The Tetons rose to 10,000 feet and more all around us; snow melt cascaded down in rivulets. We spent over half and hour watching a mother and baby moose wade and graze in the stream that runs alongside the trail. A little further down, we studied a bull moose through binoculars. After the hike and return boat ride, we visited the Indian Arts Museum. Our quirky tour guide led us amongst cases of stunning and intricately beaded pouches, moccasins, and garments.
On The Backs of Massive Fins
Arches National Park, Utah. (Devil's Garden Loop, 7.5 miles)
Geologic forces and erosion left Arches National Park with mammoth fins jutting from the earth. We've done the Devil's Garden hike twice, the first time five years ago and more recently last spring. Somehow, the sliprock fins that we hiked over and between seemed higher, steeper, and more imposing the second time around. Despite the throngs of millennials on the trail, we declared this our all-time favorite hike. The spectacular La Sals to the southeast were snow-covered in April. On the trail, arches large and small framed views of distant, otherworldly formations. We left thinking, this can't be the last time we hike this trail.
Butterflies and Family Memories
Lassen Volcanic National Park, California (Lassen Peak Trail, 5 miles)
We had planned to hike another, easier, trail, but when we passed by the base of the imposing Lassen Peak, my then nineteen-year-old son said "we have to do that." I was skeptical. Although the up and back is only 5 miles, the trailhead is at 8,500 feet and the peak itself is just short of 10,500 feet. But even my daughter, a reluctant hiker, was sure she could make it. From the trail's switchbacks, we had views of nearby Lakes Helen and Emerald, then eventually Lake Almanor, some fifty miles distant. We hair-pinned through scrub pines and boulders. At the top, thousands and thousands of California Tortoiseshell butterflies flitted down and around the rocks, rarely rising more that a foot or two above the surface. The eerie landscape of sharp hewn rocks and tors framed views of Mount Shasta to the north. Back at the bottom, we rested at a picnic table and ate giant Nutty Buddies that we bought at the base store.
What is a Waterpocket Fold?
Capital Reef National Park, Utah. (Hickman Bridge Trail, 2 miles)
Our drive from Bryce Canyon National Park to Captial Reef took us through spectacular stands of aspens in the Dixie National Forest. We could see Capital Reef's "waterpocket fold", a huge wrinkle in the earth's crust, from miles away as we descended out of the trees. Our Volvo broke down in the park, and we had to hitchhike. After attending to our car problems we had just enough time for the rocky one mile walk to the Hickman Bridge. The trail first runs up red sandstone, then through black lava boulders, and finally over and among vast rock faces to a natural 130 foot span. By 8:00 pm we were in the nearby town of Torrey, eating fire roasted pork loin with sweet potato puree, mango salsa and crispy cilantro-fleck waffles. On our way out of the park two days later, we stopped at Fruita and bought pies, home-made with apples picked in Capital Reef's own orchards.
Mountains, the Ocean and Tea on the Lawn
Acadia National Park, Maine. (Dorr Mountain Ladder Trail, 5.5 miles)
We've visited Acadia National Park seven or eight times, and all of our many hikes were spectacular. The Ladder Trail on Dorr Mountain is one of the park's oldest trails. Waldron Bates built it in 1893 and the Civilian Conservation Corps restored it in the 1930s. We climbed up over massive boulders on ladders, embedded iron rungs, and twelve hundred stone steps. At the top, we looked out over the vast blue Atlantic Ocean. We restored ourselves with popovers and tea on the lawn of the Jordan Pond House afterwards. The little touristy town of Bar Harbor is nearby. One night at dinner, we saw Glenn Close a few tables away. She didn't say hello or even wave.
A Prowl Up a Stunning Canyon
Guadalupe Mountains National Park, Texas. (Devil's Hall Trail, 4.2 miles)
The Pine Spring Canyon's wash is littered with boulders, which required some scrambling and hopping from rock to rock. We've visited twice and fall was best; red and orange-leaved maples were a sharp and beautiful contrast to the pines at the base of the canyon's sheer, white and rust-colored walls. Near the trail's end, the sedimentary rock breaks into distinct layers, making a series of steps. Stratified limestone walls, just 15 feet apart, form the 200 foot-long Devil's hall. The next day, we visited Carlsbad Caverns National Park, which is 30 miles away, on the other side of the Texas-New Mexico border.
A Walk Among the Eerie and Ancient Bristlecone Pines
Great Basin National Park, Nevada. (Bristle Cone Pine Trail to Rock Glacier, 6 miles)
We visited in the fall, when the yellow-y aspens were beginning to lose leaves, but still were stunning. Our route ran past mountain lakes and views of Wheeler Peak, the park's 13,000 foot mountain. About a mile and half into our hike, we found the grove of bristlecone pines, the trees that scientists say are the oldest living trees. Their gnarled and bark-less trunks and branches are testament to the harsh conditions they've survived for thousands of years. We wondered through dozens, reading facts and histories from trail markers. A pleasant café at the visitor center was good for a late lunch. We were glad for the $3-honor-system showers at an abandoned gas station a few miles away. Sadly, we didn't have time to tour the Lehman caves or to gather pine nuts, an activity that the park allows in the fall.