This piece first appeared in the Project Redwood blog.
When pressed, Project Redwood partner Gerald Thomas tells his story with a nonchalance that belies the magnitude of his achievements. The native of Malaysia ticks through the details of his early vitae as if he were simply noting the pleasantries of a walk with his dog, rather than describing what actually was a grinding path of hard work and intellectual commitment.
Teenaged Gerald, with the encouragement of a high school mathematics teacher, applied to the Massachusetts Institute of Technology. "By God's grace," he says, he was accepted, and granted a scholarship. A local group in Kuala Lampur raised the money to fly him, for the first time, to the United States. Four years later, he emerged with degrees in Electrical Engineering, Computer Science, and Management; his interest in pursuing the business degree developed when he found himself with "a bit of spare time" in his engineering class schedule.
After a stint in Paris with a commodities trading firm, he came to the Stanford Graduate School of Business. Post-graduation, Gerald again chose the adventure of a place that he had never even visited when he headed to Sydney, Australia as a consultant with McKinsey. Now, nearly thirty-five years later, and still in land of marsupials and vegemite, he's a treasured voice on Project Redwood's Grant Review Committee (GRC), as that eleven member group sorts through its eighth cycle of funding applications.
And while Gerald is self-effacing about his own accomplishments, he doesn't discount the resourcefulness, tenacity, and problem-solving enthusiasm embedded in this year's pool of twenty grant applications. The ideas submitted include proposals for seeding businesses to employ disadvantaged youth in Nigeria, bringing healthcare to AIDS victims in Malawi, and finding income-producing enterprises for the land-poor in Kenya. There's a proposal to deploy low-cost sanitary flooring in Rwanda, one to provide treatment to club-footed poor in Tanzania, and another to fund a reliable power supply for a school in Afganistan. Those, along with the fourteen other prospective projects, touch fifteen countries on four continents.
For members of the GRC, examining these projects, digging down and understanding their operational models, assessing their impacts, and seeing young entrepreneurs choosing to devote themselves to ridding the world of poverty, is an exciting learning experience. That shared exploration with former classmates, and the human connections that result, are precious as well. "I'm obviously interested in the issue of global poverty and making some kind of impact," says Gerald, "but I also find it very enjoyable having that season of intense working together."
Grant reviews begin in May when applications, which must each be sponsored by a 1980 Stanford Graduate School of Business classmate, are due.
Then the GRC undertakes a two month, conference-calling process that focuses on gauging fit with Project Redwood's six evaluation criteria: impact, achievability and sustainability, entrepreneurial characteristics, replicability, significance of Project Redwood's available funding, and potential for effective use of Project Redwood non-financial resources.
The group's major deliverable is a ranked slate of nominations for funding, which the partnership votes on in August. Project Redwood's Board announces final decisions in early September.
For Gerald, working with the GRC builds collegial connections with former class mates, contacts that had been largely missing after he left McKinsey in the late 1980s and subsequently focused his professional energies on building and selling two service companies.
Early on, he joined Project Redwood as a contributing partner, and later, he occasionally arranged his travel to attend a few meetings and events. Soon, though, Gerald was drafted to serve on the GRC, where he feels that part of his contribution is adding an international perspective to the voices of the mostly States-based members. And each of his four years on the GRC has brought something new. He's worked with sponsor Martha Parry Clark, for example, to learn about grantee Haitian Educational Initiatives, and with Ken Inadomi, who sponsors Burundian grantee Village Health Works. This year, he and Matt Slavik put their heads together on a proposal from Global Batwa Outreach. "Each cycle, it re-expands my circle," he says, "I really appreciate that side of it."
What he's learned working with Project Redwood has also impacted Gerald's other charitable endeavors. He heads the Board of WorldShare, an Australian non-profit that connects supporters with change-making organizations in challenging regions of the world. Last year, Gerald heard that Project Redwood grantee Development in Gardening was looking for test sites to validate instructional tools. He suggested the Ugandan site of WorldShare partner Wakisa Ministries, which provides care, shelter, and vocational training for pregnant young women who have been rejected by their families. A collaboration commenced in January; Wakisa girls now have a garden with a dozen kinds of vegetables, and they've learned cultivation and garden management skills.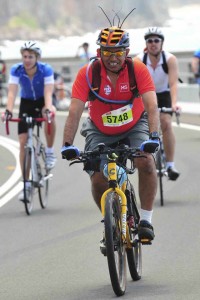 These days, in addition to his work with Project Redwood, Gerald is still involved in a consultancy, Sussex Partners, and is a Director of Altruis Health, a start-up looking to provide customized, prevention-oriented healthcare. He and wife Esther live in Sydney; their son Dinesh is getting married later this year. "That's the big event coming up in our household, " he says.
In his spare time (Gerald still manages to find some), he cycles. His incentive is to keep in shape for the annual, ninety kilometer charity ride from Sydney to Wollongong. The route runs up-and-down hills, past the bush and beaches of Royal National Park, and across the spectacular 2,100 foot Sea Cliff Bridge, one of the few bridges in the world that runs off-shore but parallel to the coast.
And even though he's a guy who routinely juggles involvement in multiple for-profit and non-profit ventures, Gerald also likes to just hang out with family at a holiday home on the beach. That's where they love taking rambling (and pleasant) walks with their miniature schnauzer, Casper.